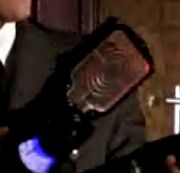 The Beyond the Realm of Science scanner or BTRS scanner is a device which scans things that are beyond the realm of science. It comes in standard black, though Wendy Watson adorned hers with gold skulls, much to the Middleman's consternation. ("The Manicoid Teleportation Conundrum")
Ad blocker interference detected!
Wikia is a free-to-use site that makes money from advertising. We have a modified experience for viewers using ad blockers

Wikia is not accessible if you've made further modifications. Remove the custom ad blocker rule(s) and the page will load as expected.